The Latest Research and Development into the Antibody–Drug Conjugate
Views:0 Author:Site Editor Publish Time: 2021-09-18 Origin:Takashi Nakada, Kiyoshi Sugihara, Takahiro Jikoh, Yuki Abe, Toshinori Agatsuma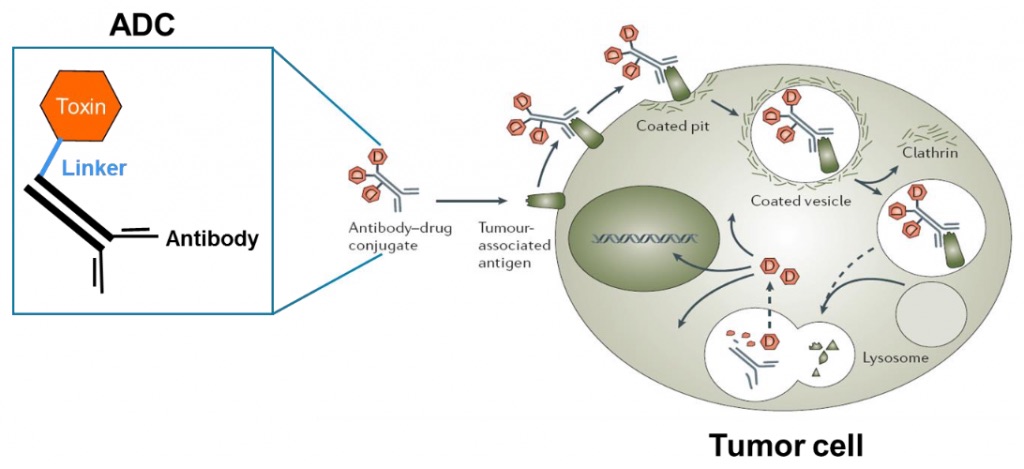 Source: Takashi Nakada, Kiyoshi Sugihara, Takahiro Jikoh, Yuki Abe, Toshinori Agatsuma ~The Latest Research and Development into the Antibody–Drug Conjugate, [fam-] Trastuzumab Deruxtecan (DS-8201a), for HER2 Cancer Therapy
Introduction
Traditional chemotherapy has been the predominant modality of cancer therapy.1) Chemotherapy agents operate by several mechanisms in which rapidly dividing cancer cells are preferentially killed, while the effect on normal cells is minimized. Historically, the next significant progress in cancer chemotherapy was the introduction of drug combinations.2,3) Suitable drug combinations with non-overlapping toxicity profiles and different mechanisms of action were found to show additive or synergistic antitumor effects. Thus, multidrug combination therapies became the standard of care for the treatment of most cancers. However, administration of therapeutic amounts of cytotoxic agents is often difficult to achieve due to their unselective and high systemic toxicity. To curtail the frequency of adverse events, next-generation approaches have been sought specifically to target molecules involved in cancer cell proliferation.4–6) These molecular targets are preferentially expressed on tumor cells relative to normal cells. Thus, molecular-targeted drugs will be selectively cytotoxic/cytostatic to tumor cells and, coupled with lower toxicity profiles, should result in a higher therapeutic indices .The major approaches in targeted molecular therapy include: 1) tyrosine kinase inhibitors (TKIs); 2) monoclonal antibodies (mAbs); and 3) antibody–drug conjugates.


First-Generation ADCs
The concept of ADCs is simple. Through the connection of mAbs to small molecule drugs via an appropriate linker, the mAb, as a drug delivery carrier, and the small molecule demonstrate specific antitumor activity in cancer cells. Thus, the maximum medicinal effect in cancer cells is increased, and undesirable side effects are expected to be reduced. Historically, Paul Ehrlich proposed the concept of a "magic bullet," as selective delivery of a cytotoxic drug to a tumor via a targeting agent a century ago.9) The history of ADC development has been challenging to the "magic bullet" imagined by Ehrlich10,11) .
Timeline of the Challenge in the Development of the "Magic Bullet" Concept of ADCs as Cancer Therapeutics mAb, Monoclonal Antibody; ADC, Antibody–Drug Conjugate.